Mentawai Fast Ferry Price & Schedule
Mentawai Fast ferry schedule
Here is the schedule for the Mentawai fast ferry that runs between Padang and the Mentawai Islands. The ferry operates every day of the week but travels to different locations.

Monday, Wednesday, Friday and Sunday the ferry runs between Padang and Tua Pejat (Sipora Island)
- 6am Padang - Tuapejat | 3pm Tuapejat - Padang
Tuesday, Thursday and Saturday the ferry runs between Padang and Sikalabuan / Siberut (Siberut Island)
- 7am Padang - Sikalabuan - Siberut | 2:30pm Siberut - Padang
Friday the Ferry runs between Padang and Sikikap ( Pagai Utara Island)
- 7am Padang - Sikikap | 1pm Sikikap - Padang
Sunday the ferry runs between Padang, Sioban and Tuapejat.
- 10am Padang - Sioban - Tuapejat | 3pm Tuapejat - Padang
Please check the schedule on the website as these dates can change. Also please note the ferry is sometimes cancelled because of bad weather so check with the ferry operator the day before departure.
Mentawai Fast Ferry Price?

A ticket for the Mentawai Fast ferry will cost you 350.000 IDR ($25 USD) per person. You can buy a ticket at the local office on the day before departure or you can contact them online.
There is an extra charge for surfboards
Small board 1kg-15kg 230.000 IDR
Medium board bag 16kg-25kg 460.000 IDR
Large board bag Over 26kg - 680.000 IDR
Mentawai Fast Ferry Location

The Mentawai fast ferry departs from Harbor at Muara
Other Information on the Mentawai Fast Ferry.

The ferry trip usually takes between 3-5 hrs depending on the weather and where you are travelling. Always check if the ferry is running with the operator day before departure. The ferry leaves Padang early morning so you need to arrive day before departure. You can buy snacks and drinks onboard the Ferry. If you get seasick take some Dramamine or motion sickness pills before the crossing.
Are there any other ways to get to the Mentawai Islands?
There are overnight ferry's that run between Padang and the Mentawai islands. Both the Ambu Ambu and the Gambolo operate trips a couple of times a week. These are both slow ferry's and the crossing can take up to 12 hrs or more. Good for budget travel but they can be crowded and sometimes overloaded.
Can I charter a private speed boat to the Mentawai Islands?
Most the surf resorts in the Mentawai islands offer a private speedboat transfer from Padang. The prices vary on which resorts you use but this can be a dangerous crossing and its only advisable to do this trip with the more professional operators. There are also numerous surf charters running between the Islands.
Can I fly to the Mentawai Islands?
They are building a new airport close to Tua-Pejat on Pulau sipora Island. Currently Suzi air fly there twice a week but you I'm sure there will be more flights available once this project is complete.
Travel Insurance - Are you travelling to Mentawai soon? We have recently partnered with World Nomads. Thier policy will cover you for surfing in Mentawai and around Indonesia. Make sure you get a good Insurance policy for your trip, give a copy of your details to your charter operator. For any more information or questions regarding travel to Indonesia please email us at [email protected]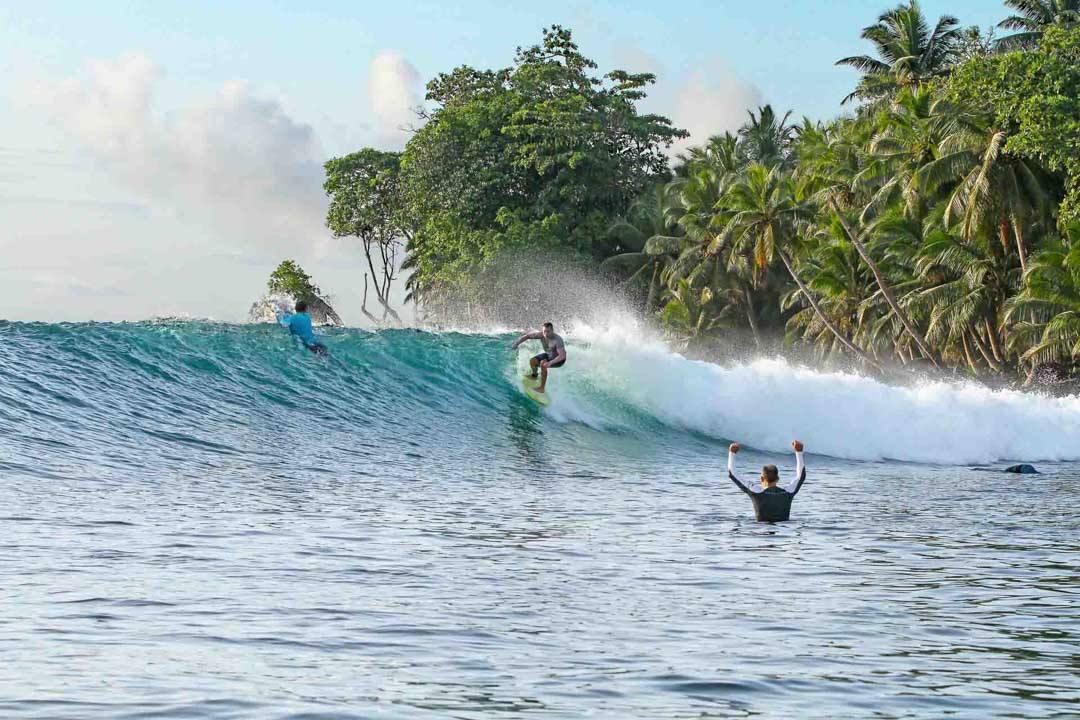 7 comments
- Mentawai Fast Ferry Price & Schedule
Nele - June 22, 2022 at 9:32 pm
Is the ferry going to the Mentauwi's tomorrow?
Grant O'Sullivan - November 6, 2022 at 1:07 pm
Can you deliver some bodyboards to a charter boat off the Mentawai's? They have been lost in airline transport .
Luke Cromwell - February 17, 2023 at 9:06 am
Check the ferry website for updates on the schedule. Yes boards can be sent out on the fast ferry.
brett holmes - May 13, 2023 at 10:49 am
need to buy 4 tickets for fast ferry on monday at 6 am .can i pay when i get there
Janelle Mcmorland - July 25, 2023 at 8:51 am
Hi we are wanting to book the fast boat from Padang to Tuapejat on Monday 21st August, can u advise how to book, how much and when to pay. We have 2 people.
Luke Cromwell - August 10, 2023 at 9:46 am
You can buy Tickets for the Mentawai Ferry at the office where the boat departs down at Pelabuhan Muara. Search for MV.Mentawai fast on google maps. A single ticket costs 350.000 IDR. Buy a ticket day before departure or day of departure. Get to the ferry 1 hr before departure.
Carine - August 29, 2023 at 4:25 am
Hello, at what time and what day does the ferry comes back to Padang ? Thank you!
Leave a reply